Board of Education Members
Our school board members are entrusted with the important work of shaping the education of our youngest citizens. They dedicate countless hours to creating the mission, vision and goals that drive our schools.
They are dedicated to creating a school culture where collaboration and continuous learning are valued and displayed throughout our system.
The seven members of the Tri County Area Schools Board of Education do this by always keeping children as the center of their work and decision making.
Board Meetings
BOE Regular Meetings
TC Educational Service Center
7:00 PM
Meetings are are held in-person in the board room at the Educational Serivce Center, located at 94 Cherry Street, Sand Lake, MI
BOE Workshop*
TC Educational Service Center
Board Room, 6:30 PM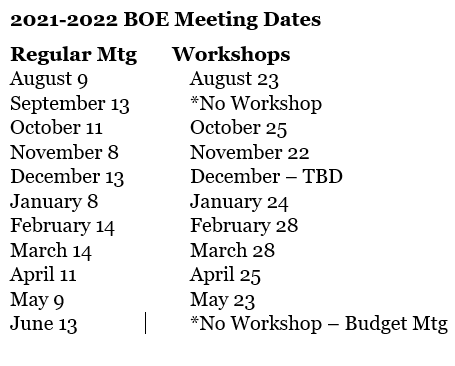 Public Participation at Board Meetings
Board meetings are held for the purpose of conducting the business of the district and are not public meetings, but meetings held in public. All regular and special meetings of the board shall be open to the public.

The board desires to hear the viewpoints of citizens, students, and employee organizations and shall schedule times at all meetings for them to be heard.

When addressing the board during Public Comment, state your name and address at the start of your comment. Please limit your comments to three minutes.

Audience time is not intended as a forum for public debate. Questions raised may require further investigation. Normally, the board will wait until its next meeting before responding to concerns raised.
Questions & Concerns
Residents of the community are encouraged to communicate with Tri County Area Schools educators and school board members.

School-related problems can usually best be solved by talking with the employee closest to the problem, i.e. teachers, support staff, principal. It is there that most problems can be quickly and productively resolved.

If questions still remain, please contact the Superintendent. And, if you're convinced that further action is required, your next step is to submit it to the Board of Education. You may address the Board at a board meeting during the Public Comment portion of the agenda or in writing to the Board of Education, 94 Cherry Street, PO Box 79, Sand Lake, MI 49343.

October Issue by Jill Fennessy, Board President

Greetings TC Family! Welcome to October!
On September 27th, members of our school board and administration attended the County Wide school board meeting which is held in the spring and fall of each year. The meeting locations rotate among all 7 of the school districts in our ISD, and this year Montabella was our gracious host. It had been 18 months since we were able to meet in-person, and the meeting did not disappoint! We began with a tour of Montabella's new bond construction projects and enjoyed a wonderful dinner prepared by their food service staff. The guest speaker was Dr. Cathy Hamilton, who spoke to us about "Challenging the Barriers to Academic Excellence". Dr. Hamilton is a nationally recognized speaker, former teacher and administrator. She provided us with her insight into the brain, emotions, culture, and how they impact critical thinking for students. The evening was well spent, and added valuable information as we work to support our wonderful TC students.
Over the past several months, the Board of Education has continued the "Conversations with Community" program. We have attended community events in Sand Lake and Howard City, and most recently we have set up the 'board table' at all home Varsity Football games. We thank everyone who has taken the time to stop by to say "Hi!" and we look forward to keeping this effort going. We also have free TC swag to give away, in the form of TC window decals! So if we can persuade you to come visit us with free goodies, we're all in! If you have suggestions for upcoming events that you would like us to attend, please let us know. Our goal is to be in touch with all of you and stay connected.
As always, thank you for all that you do to support students, TC, and our community at large. Whether you support us in big ways, or small, with a kind word or feedback, we appreciate you!
Sincerely,
Jill Fennessy, President
Board of Education
Tri County Area Schools