Board of Education Members
Our school board members are entrusted with the important work of shaping the education of our youngest citizens. They dedicate countless hours to creating the mission, vision and goals that drive our schools.
They are dedicated to creating a school culture where collaboration and continuous learning are valued and displayed throughout our system.
The seven members of the Tri County Area Schools Board of Education do this by always keeping children as the center of their work and decision making.
Board Meetings
BOE Regular Meetings
TC Educational Service Center
7:00 PM
Meetings are are held in-person in the board room at the Educational Serivce Center, located at 94 Cherry Street, Sand Lake, MI
BOE Workshop*
TC Educational Service Center
Board Room, 6:30 PM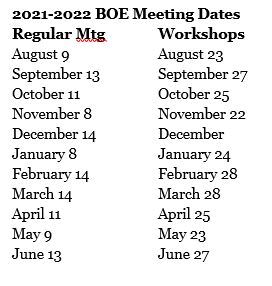 Public Participation at Board Meetings
Board meetings are held for the purpose of conducting the business of the district and are not public meetings, but meetings held in public. All regular and special meetings of the board shall be open to the public.

The board desires to hear the viewpoints of citizens, students, and employee organizations and shall schedule times at all meetings for them to be heard.

When addressing the board during Public Comment, state your name and address at the start of your comment. Please limit your comments to three minutes.

Audience time is not intended as a forum for public debate. Questions raised may require further investigation. Normally, the board will wait until its next meeting before responding to concerns raised.
Questions & Concerns
Residents of the community are encouraged to communicate with Tri County Area Schools educators and school board members.

School-related problems can usually best be solved by talking with the employee closest to the problem, i.e. teachers, support staff, principal. It is there that most problems can be quickly and productively resolved.

If questions still remain, please contact the Superintendent. And, if you're convinced that further action is required, your next step is to submit it to the Board of Education. You may address the Board at a board meeting during the Public Comment portion of the agenda or in writing to the Board of Education, 94 Cherry Street, PO Box 79, Sand Lake, MI 49343.

May Issue by Lana Ford, Board Secretary

Greetings Viking Families:
The weather recently hints of summer, but as any of us living in Michigan realize, the weather can change quickly. It is not so different from where we are with the challenges the COVID-19 pandemic provided. The end is in sight, vaccines are becoming available, but we also know it is not over.
The effects of the pandemic will be with us for quite some time. We do not know the full extent of the emotional and mental health trauma or how systems such as education will be impacted, but we are hopeful that this experience has made us stronger by working together to meet the challenges.
Teacher Appreciation Week is occurring May 3-7, 2021, but our Board of Education believes teachers should be appreciated every day! The Board of Education would like to thank each of our educators for their support and dedication to our students this past year. We are very appreciative of their passion to serve the needs of our students and to better prepare each student for future success. Our TC teachers and staff have touched our students' hearts in order to teach and reach each student's mind. We are so grateful for everyone's kindness and graciousness.
As another school year comes to an end, we have many things to be grateful for. Our teachers, staff, custodians, bus drivers, food service staff, maintenance and administration have been vigilant regarding making this year safe and providing an excellent educational experience for our students whether they chose Viking Virtual or face-to-face. Through all the trials in the past year, we were so encouraged by the cooperation and support of our TC community. The new elementary building is beginning to take shape and provides us with hope and much thankfulness for our future.
We especially want to recognize our students. We are immensely proud of the sacrifice they each have made over the past year and a half. Their courage, determination, and resilience to overcome the enormous challenges as well as disappointments has given our TC community strength and hope for the future. We have so much gratitude for our students and their families.
Congratulations to our seniors who will be graduating May 27rd. The graduation ceremony is a time to commemorate their achievements, anticipate for future opportunities, and embrace a world of infinite possibilities. We know each of our graduates will find their path to success and we wish each of them well on their journey.
Thank you for allowing me to serve you and our schools. Have a wonderful May. We are TC STRONG!
Appreciatively,
Lana Ford
Board of Education
Tri County Area Schools