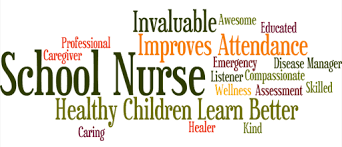 Our goal at Tri County Area Schools is to provide your children with a healthy environment in which to learn and grow. Please notify the school as soon as possible with any medical concerns that your child may have. We want to reassure you that this information is kept confidential, shared only on a need to know basis, and will help us meet your child's medical needs while at school.
We hope the information on this page is informative and helpful. We Are TC!
Nursing Responsibilities
Immunizations IP reporting to Mid Michigan Health Department
Assessment of acute illnesses
Monitor and report health conditions
Emergency care of on-site student and employee injuries
Communicable disease reporting to Mid Michigan Health Department
Protective Service referrals
Classroom teaching
CPR and first aid training for staff
Pre-kindergarten screening
Organization of employee wellness and fitness program
Vision and hearing screening coordination with Mid Michigan Health Department
Implementation of OSHA Guidelines
Appraise the school environment to ensure healthful conditions
Monitor medication distribution
Prepare individual Health Care Plans for students with medical conditions
Provide individual services to students with critical medical needs
Coordinate communication of health care needs of a student to school personnel
"Do I send him/her today or not"?
It can be difficult to know when to keep your child home from school due to illness. The control of communicable diseases in our schools is always of concern. Simple "Rules of Thumb" of when to keep a child home are if any of the following are exhibited:
fever
vomiting
diarrhea
uncontrolled cough and runny nose
rash without a diagnosis by a healthcare provider
Getting your children immunized is an important way to protect their health. Make sure your child receives regular checkups at your doctor's office or local health clinic. Keep a record of your child's vaccinations. Provide the school with a copy of your child's vaccinations. If you wish to waive your child's immunizations, a waiver form is available in the school office.
Immunization requirements for children attending Michigan schools:
• Diphtheria, Pertussis - 4 doses (Must have 1 dose within last 10 years)
• Tetanus - 1 dose every 5 years
• Polio - 3 doses
• Measles, Mumps, Rubella - 2 doses
• Hepatitis B - 3 doses
• Varicella (Chickenpox) - 2 doses for everyone kindergarten and up
• Meiningicoccal - everyone 11 years and older

Vaccines Required for School Entry in Michigan
MEDICATIONS
Medication Policy: TCAS Policy # 5330, 5330.01, 5335

The administration of prescribed medication and/or medically‑prescribed treatments to a student during school hours will be permitted only when failure to do so would jeopardize the health of the student, the student would not be able to attend school if the medication or treatment were not made available during school hours, or the child is disabled and requires medication to benefit from his/her educational program.

Before any prescribed medication or treatment may be administered to any student during school hours, the Board shall require the written prescription from the child's physician accompanied by the written authorization of the parent. Both must also authorize any self-medication by the student.
Before any non-prescribed medication or treatment may be administered, the Board shall require the prior written consent of the parent who must also authorize any self-medication by his/her child. Medications will be administered by the District in accordance with the Superintendent's guidelines.
Only medication in its original container; labeled with the date, if a prescription; the student's name; and exact dosage will be administered. Parents, or students authorized in writing by their physician and parents, may administer medication or treatment.
Students may possess and self-administer a metered dose or dry powder inhaler for relief of asthma, or before exercise to prevent onset of asthma symptoms, while at school, on school-sponsored transportation, or at any school-sponsored activity in accord with the Superintendent's guidelines, if the following conditions are met:
A. There is written approval from the student's physician or other health care provider and the student or parent/guardian (if student is under eighteen (18)) to possess and use the inhaler (Form 5330 F1c)

And
B. the building administrator has received a copy of the written approvals from the physician and the parent/guardian.

And
C. there is on file at the student's school a written emergency care plan prepared by a licensed physician in collaboration with the student and his/her parent/legal guardian. The plan shall contain specific instructions on the student's needs including what to do in the event of an emergency.
Students with a need for emergency medication may also be allowed to self-possess and self-administer such medication, provided that they meet the same conditions established above. Students who are prescribed epinephrine to treat anaphylaxis shall be allowed to self-possess and administer the medication if they meet the conditions stated above.