Tri County Middle School
"Leading, teaching, and learning for our future"

Welcome to Tri County Middle School! We are here to help you become college and career ready. Our teachers and staff are dedicated to providing you with the education that is essential to be successful in life. We challenge all of our students, celebrate the our students' growth, and partner with families to continue student success.
We offer accelerated and support classes to meet the needs of all our students. All students have the opportunity to participate in Art, Band, Woodshop, Gym and Computer classes. After school, students can continue their learning through Odyssey of the Mind, football, basketball, wrestling, cross country, cheer, track, softball and baseball.
At the middle school level, students are learning habits and forming relationships that impact the rest of their lives. The adults in our building act as mentors for the successful behavior we want to see in our students. Students are taught to seek out healthy relationships and treat all people with respect.
I encourage you to contact our school for a face to face meeting or tour and see what TCMS has to offer your child.
Mr. Johnson
Principal
Patriot's Pen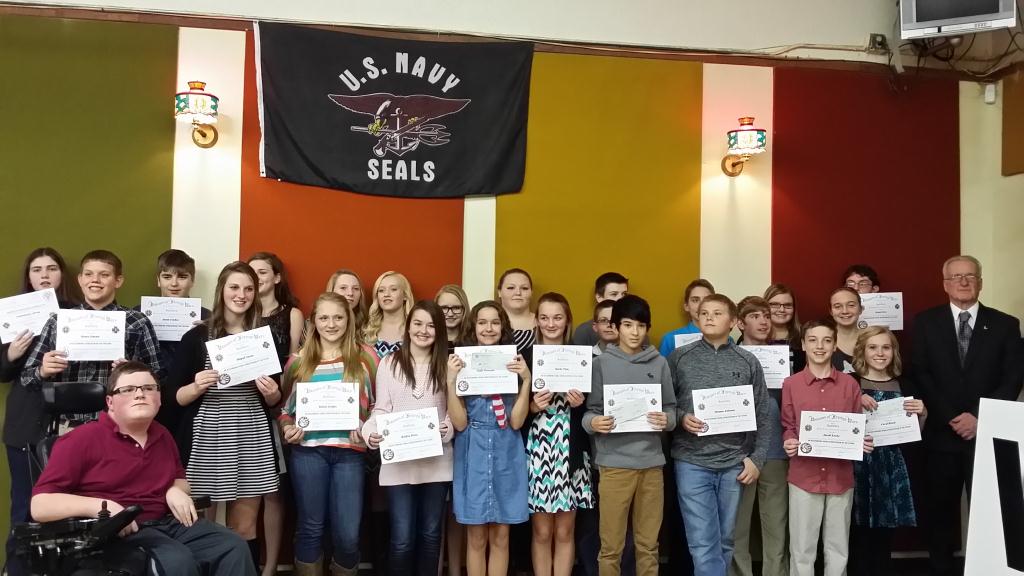 Patriot's Pen Essay Contest
Twenty-four students from Tri-County Middle School were recently honored as semi-finalists in the Patriot's Pen Essay Contest sponsored by the Veterans of Foreign Wars. The topic for the contest this year was "What Freedom Means to Me." A banquet was held for the students and their families at the VFW hall in Howard City on December 10, 2015, and the following awards were given: First Place $75: Janelle Walters, Karly Platz, Blaine McGiverin, Sadie Derusha; Second Place $50: Landon Powell, Daniel Findley, Abigail Jason, Coral Brock; Third Place $25: Max Visser, Brady Stine, Hunter Dewey, Abby Harding; Honorable Mention: Sequoya Drilling, Hayden Edwards, Kelsey Griffes, Kaitlyn Heiss, Thomas Johnson, Kaitlyn Klein, Jacob Locke, Taylor Longstreet, Ethan McLaughlin, Allison Myers, Tommie Phinney, Jordan Pierce.
Upcoming Events

iCal Feed
Middle School Daily Calendar
›

‹

February

2016

S
M
T
W
T
F
S
1
2
3
4
5
6

Feb 6

10:00 AM to 1:00 PM

Football Team Popcan Drive

Middle School Daily Calendar

Feb 6

10:00 AM to 1:00 PM

Leppink's

The Tri County Middles School football program is having a pop-can drive to help raise funds for new game jerseys. If you would like to donate or help please stop out February 6th at Leppinks in Howard City. We will be there from 10 am - 1pm. Thank you your support.

7
8
9
10
11
12

Feb 12

Honors Assembly

Middle School Daily Calendar

Feb 12

Gym

Honors Assembly for students with 3.0 - 4.0 GPA

7:20 AM to 10:35 AM

1/2 day of School

Middle School Daily Calendar

Feb 12

7:20 AM to 10:35 AM

Professional Day - 1/2 day for students 7:20-10:35am

13
14
15

Feb 15

No School for Students

Middle School Daily Calendar

16
17
18
19

Feb 19

11:00 AM to 3:30 PM

Immunization Clinic

Middle School Daily Calendar

Feb 19

11:00 AM to 3:30 PM

MacNaughton Elementary

Keeping students fully immunized is an effective way in preventing the spread of disease. In order to ensure that each school aged child Pre-K through 12th grade has an opportunity to receive needed vaccines, the Mid-Michigan District is collaborating with Tri-County Area Schools to offer a school-based immunization clinic. The clinic will take place on Friday, February 19, 2016 from 11:00 AM until 3:30 PM at the MacNaughton Elementary School in Howard City. Parents/guardians or another adult must accompany any student less than 18 years of age. All childhood vaccines will be offered during the clinic. To schedule an appointment, please call 989/831-5237. Please indicate at that time if you are going to have another adult (other than the parent/guardian) accompany your student and we will send the necessary paperwork that will need to be brought to the clinic.

20
21
22
23
24
25
26
27
28
29