Tri County Middle School
"Leading, teaching, and learning for our future"

Welcome to Tri County Middle School! We are here to help you become college and career ready. Our teachers and staff are dedicated to providing you with the education that is essential to be successful in life. We challenge all of our students, celebrate the our students' growth, and partner with families to continue student success.
We offer accelerated and support classes to meet the needs of all our students. All students have the opportunity to participate in Art, Band, Woodshop, Gym and Computer classes. After school, students can continue their learning through Odyssey of the Mind, football, basketball, wrestling, cross country, cheer, track, softball and baseball.
At the middle school level, students are learning habits and forming relationships that impact the rest of their lives. The adults in our building act as mentors for the successful behavior we want to see in our students. Students are taught to seek out healthy relationships and treat all people with respect.
I encourage you to contact our school for a face to face meeting or tour and see what TCMS has to offer your child.
Mr. Johnson
Principal
What's Going on at the Middle School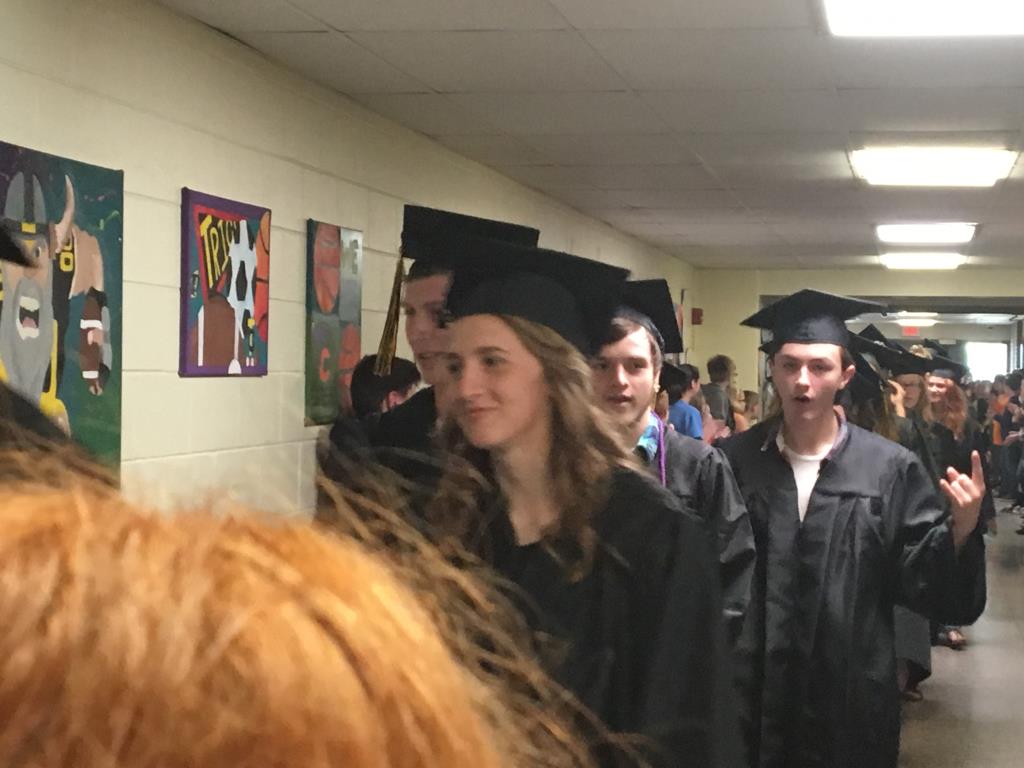 Senior Class of 2017
We had the honor of having our graduating Class of 2017 parade through our middle school hallways Thursday, May 19, 2016. Our students clapped and cheered them on as the seniors walked with their caps and gowns and big smiles through our hallways. The middle school wishes the graduating Class of 2017 much success in their future!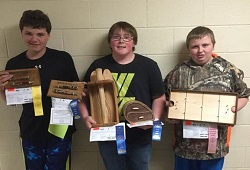 Woodshop MITES Competition
We are happy to announce that three of our middle school woodshop students placed at the MITES Competition (Michigan Industrial Technology Education Society). The competition was held in Lansing on May 12-14, 2016. Schools from Michigan, Indiana and Ohio were present. The students' projects had to place in the top four at the regional completion in order to be eligible to go to state. Placing for Tri County was: Trevor Moser who took 1st place in the "General Woodworking" category with his paper towel holder; 1st place in the "Boxes" category with his band saw box; and 7th in the "Sporting Goods and Games" category for his penny hockey board. Jordan White placed 1st in the "Plastic Turning" category with his pheasant feather pen; 4th in the "Turning Between Centers" category for his wooden pens. Jordan was also selected as a Divisional Champion for his pheasant feather pens that he made. Jordan's pen was rated as the best plastic project for any category at the completion. Sam McFarland took 6th place in the "Sporting Goods and Games" category for his penny hockey board. Great job students representing Tri County Middle School at the MITES Competition. Tri County Middle School is very proud of you!
Middle School Calendar
‹

December

2016

›

S
M
T
W
T
F
S
1
2
3
4
5
6
7
8
9
10
11
12
13
14
15
16
17
18
19
20
21

Dec 21

No School - Christmas Break

MIddle School

22

Dec 22

No School - Christmas Break

MIddle School

23

Dec 23

No School - Christmas Break

MIddle School

24

Dec 24

No School - Christmas Break

MIddle School

25

Dec 25

No School - Christmas Break

MIddle School

26

Dec 26

No School - Christmas Break

MIddle School

27

Dec 27

No School - Christmas Break

MIddle School

28

Dec 28

No School - Christmas Break

MIddle School

29

Dec 29

No School - Christmas Break

MIddle School

30

Dec 30

No School - Christmas Break

MIddle School

31

Dec 31

No School - Christmas Break

MIddle School