Tri County Middle School
"Leading, teaching, and learning for our future"

Welcome to Tri County Middle School! We are here to help you become college and career ready. Our teachers and staff are dedicated to providing you with the education that is essential to be successful in life. We challenge all of our students, celebrate the our students' growth, and partner with families to continue student success.
We offer accelerated and support classes to meet the needs of all our students. All students have the opportunity to participate in Art, Band, Woodshop, Gym and Computer classes. After school, students can continue their learning through Odyssey of the Mind, football, basketball, wrestling, cross country, cheer, track, softball and baseball.
At the middle school level, students are learning habits and forming relationships that impact the rest of their lives. The adults in our building act as mentors for the successful behavior we want to see in our students. Students are taught to seek out healthy relationships and treat all people with respect.
I encourage you to contact our school for a face to face meeting or tour and see what TCMS has to offer your child.
Mr. Johnson, Principal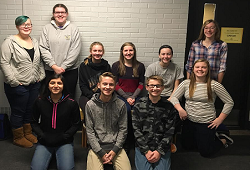 2016 Patriot's Pen Essay Contest Winners
The Patriot's Pen is a writing contest sponsored by the Veterans of Foreign Wars (VFW) for middle school students. Its purpose is to inspire and encourage a sense of patriotism among America's youth, as well as to reward hardworking, studious students. Below are the following winners from TCMS: Four first place winners each received $75: Kayla Michael, Ashley Myers, Kylee Prestia, Nicole Mata......... Four second place winners each received $50: Brian Corbett, Emily Durian, Myles Scott, Alexis Standhardt......... Four third place winners each received $25: Ashley Bialek, Brennan McLachlan, Zoe Phinney, Kiya Snell............ Congratulations to all of the winners. TCMS is proud of you.
Kylee Advances to the 2nd Round
Congrats to Kylee Prestia for making it to the second round of the Patriot's Pen essay contest.
Annual Fundraising Campaign
Runs Monday, September 25th through Monday, October 9th.
We will be working with Cherrydale Fundraising again this year. Have questions?? Contact Tory Mulholland at the Middle School

Click here to support the Middle School
Middle School Calendar
‹

September

2017

›

S
M
T
W
T
F
S
1
2
3
4
5
6
7
8
9
10
11
12
13
14
15
16
17
18
19
20
21
22
23
24
25

Sep 25

Middle School Annual Fundraising Campaign

MIddle School

26

Sep 26

Middle School Annual Fundraising Campaign

MIddle School

27

Sep 27

Middle School Annual Fundraising Campaign

MIddle School

28

Sep 28

Middle School Annual Fundraising Campaign

MIddle School

29

Sep 29

Middle School Annual Fundraising Campaign

MIddle School

30

Sep 30

Middle School Annual Fundraising Campaign

MIddle School